The History of Glen Eden Holsteins
The Glen Eden Holsteins dairy has been in operation, by the Raphael family, since 1982. We are currently milking approximately 1,000 Holstein Friesian dairy cows producing approximately 10,000,000 litres of milk annually.The business is owned and operated by brothers John and Douglas Raphael. We are the new generation of dairy farmers & have young families. We are passionate about producing high quality and profitable milk and firmly believe that our industry has a future for our children.
Situated on the outskirts of Muswellbrook New South Wales, Glen Eden Holsteins is in a prominent position with approximately 1 kilometre of frontage onto the New England Highway. New South Wales' most secure & iconic river, "The Hunter", flows directly through the middle of the farm which is sitting on an aquifer with unlimited groundwater.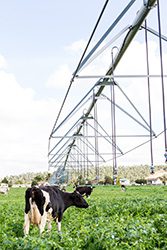 Glen Eden Holsteins is currently contracted to supply milk to the Sydney market. Our fresh milk is delivered to the processor by 9:00am every morning.
We see the future of the Australian Dairy Industry built around strategic alliances with those who use our milk and believe that the model of direct procurement of our fresh milk creates the greatest opportunities for all parties to maximise their profits.