The Future at Glen Eden Holsteins
The management practices at Glen Eden Holstein ensures that we are creating a healthy environment where our cows are able to maximise their genetic potential & produce high quality milk. We focus on issues within our circle of influence that allow us to maximise production & minimise the cost of inputs which in turn reduces our cost of production & improves the whole business profitability.
The other component which will determine the long term viability of our business is the price we receive for our product. The current price of milk is not condusive to creating a profitable business & we believe that there needs to be direct contact with the end seller of our product to ensure that both parties are able to maximise their returns.
At Glen Eden Holsteins we are looking to secure our future in the dairy industry through joint ventures in areas such as on site milk manufacturing, herd expansion through land purchases & infrastructure development & exporting our product into the growing markets of Asia.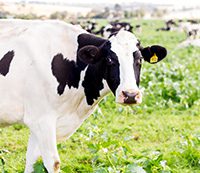 The Glen Eden Holstein story has the potential to show people what the future of Australian Dairies looks like. We believe that the people who consume our milk must have the confidence that it is a healthy & natural product which has been produced in an environment where the health of the landscape & animals is paramount.
We are looking to create strategic alliances with those business's who use & market our milk so they can also share that story.